Manage Inventory Levels With Ease
Inventory

& Point of Sale
Our Inventory software helps small organizations manage a simple inventory ledger in real-time. Products being distributed to clients are quickly and easily tracked using the point of sale (POS) integration. Customers must be using Link2Feed's Case Management Software in order to purchase the Inventory add-on.
Always Know What's on Your Shelves​
Increase Your Stock
Visibility
Our simple Inventory software helps your team keep track of stock without the use of countless spreadsheets.
Track waste and better understand your product flow at all times with our simple ledger.
Say Good Bye to Spreadsheets
Upgrade from manual stock management processes. Inventory is designed to take you from spreadsheets to digital records in a snap.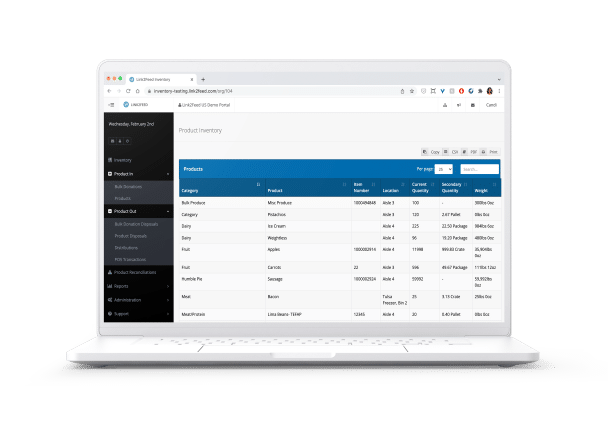 Easy Commodities Handling
Inventory management doesn't have to overwhelm your grassroots organization. Build a framework for improved commodities handling with Link2Feed's user-friendly system.​
Report on Donor Impact
See the total quantity or pounds donated by each donor over your select time period. Data is displayed in presentation-friendly graphs.
POS Tracks & Records Distributions
Products being distributed to clients are tracked and recorded to their profile using the POS integration with our Case Management Software.
Real-Time Reconciliation
The Inventory add-on makes it easy to perform regular physical reconciliations. Match up what's on the shelves with what's in the system with a few quick clicks.
Automated USDA reporting
Generate real-time reports based on federal USDA guidelines for TEFAP. Save your volunteers time and frustration by eliminating complicated spreadsheets and hardcopy tracking systems.
Improving Communities with Inventory
Check out the following case studies to see how our Inventory software and POS add-on has helped small organizations streamline the management of their stock levels.
Eliminate Unnecessary Administrative Hassles
Track Your Inventory With
Confidence​
Contact Link2Feed to see how our Inventory add-on can enhance your Case Management Software package.​