Improve your organization's ability to manage and administer critical programs and services. Our Case Management Software enables quick and easy intake, prevents client duplicates and provides outcome-based reporting.
Enable Data-Driven Decision Making
Technology to
Drive

Communities
Link2Feed's Case Management Software helps you identify and understand the needs of people in your community. ​
Track All of Your Clients' Needs
Simplify

Complex Data Sets
Whether you're using it independently at the agency level, or collaboratively across a network of sites, our Case Management Software provides your team with a single system for tracking all of your clients and programs.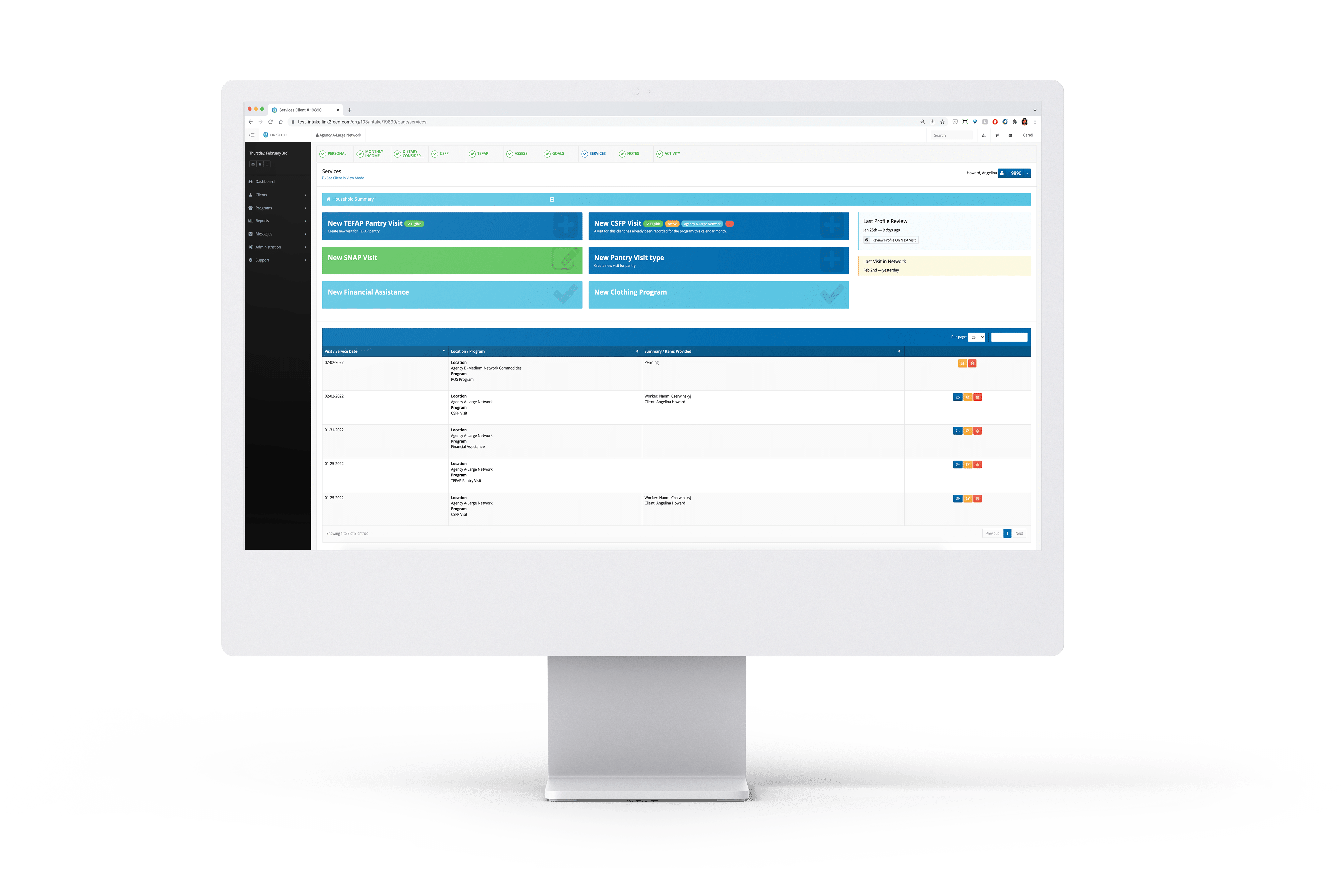 Link2Feed's Case Management Software is based on a catalog of customizable fields and settings, making it easy for you to track distinct data points across a wide range of programs. There's no need for complex technical setups. Simply click your selections and you're ready to begin client intake. ​
De-Duplicate Client Counts
Identify potential individual and household profile duplicates at the time of intake. You can also merge duplicates post-intake to further ensure data integrity and de-duplicated client counts.
Automate Eligibility & Compliance
Automate compliance for government programs (TEFAP and CSFP), or create custom program eligibility criteria. Integrated electronic signature collection helps eliminate the need for paper forms.
Enable Self-Enrollment & Booking
Allow clients to create and manage their own profile online to speed up intake and pre-book services for pick-up or delivery.
Report on Actionable Outcomes
Generate reports with supporting graphics for specific programs, site-wide services or across multiple networked locations.
Changing Communities, One Program at a Time
Check out the following case studies to see how our Case Management Software has helped organizations of all sizes improve their program and service offerings.
Contact Link2Feed to see how our powerful case management system can be a catalyst for data-driven mission achievement at your organization.​