New overall Certified B Corporation's impact score
Since first becoming a Certified B Corporation in 2014, we have increased our overall impact score to 145.1 – that's a 14.8% increase from 2018, and almost double the required score to get certified!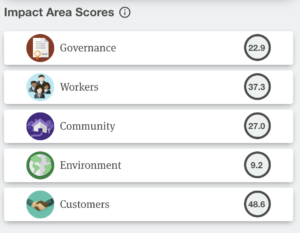 This year we are proud to have scored over 20 points in four out of five impact areas (Governance, Workers, Community and Customers), with an impressive score of 48.6 in the 'Customer' category. This placed us in the top 5% of all B Corps for the Governance, Workers, and Customer sections, and top 10% in the Community section.
"The spike in our overall Certified B Corporation score demonstrates our commitment for improvement and is something we are extremely proud of," says Emily Branton, Link2Feed CEO, "We know that changing the world isn't easy, but this recognition from the B Corp movement is what keeps us going in our journey to make a difference, or as we call it, to feed change."
Updated policies that improved our score
We were able to increase our score through multiple initiatives to reduce carbon footprint in the environment, renewing workforce policies about diversity and finding more ways to donate to our customers.
The significant score in the 'Customer' section highlights our continuous efforts to support underserved organizations as well as empower them to make an impact in their communities.
Link2Feed is one of 4,000 Certified B Corporations across 77 countries and 153 industries that are united by one common mission: to use business as a force for good and transform the global economy to benefit all people, communities, and the planet.
"It was a pleasure working with the team at Link2Feed during their recertification process," says Jazmin Toledo, Business Sustainability Analyst from B Lab US & Canada's Standards Review Team. "The increase in score from their previous certification shows that their dedication to being a company that is good for their people, planet and community is only getting stronger. I look forward to seeing their continued growth during the next round of recertification!"
What is a B Corporation?
The B Corp Certification, issued by an independent non-profit organization called B Lab, is awarded to organizations that balance profit and purpose by meeting the highest standard of performance in social and environmental aspects, public transparency, and legal accountability. To become a Certified B Corporation, companies like Link2Feed must undergo a rigorous B Impact Assessment and achieve a minimum score of 80.
The B Impact Assessment evaluates a company's impact on five areas: Governance, Workers, Community, Environment and Customers. Since July 2018, companies must submit their assessment for recertification every three years in order to maintain their B Corp status.