Health-e Pro is an expert in menu planning…
Link2Feed is an expert in point of service meal recording.…
… so we're teaming up to offer CACFP/SFSP sponsors an all-in-one solution!
How menu planning and point of service meal recording integration works
To use the integrated solution, CACFP/SFSP sponsors sign up for both Link2Feed and Health-e Pro. The sign-up process is separate for each software, so sponsors have the flexibility to start with just one software first.
Once the contracts are finalized, sponsors create their menus and do nutrient analysis in Health-e Pro and a software integration will populate that information into Link2Feed.
The monthly menu from Health-e Pro will display on the Link2Feed's point of service meal recording dashboard (see image below) for users at meal sites. Users will also see the daily menu in an active meal service when they complete the section confirming that the day's meals matched the planned menu.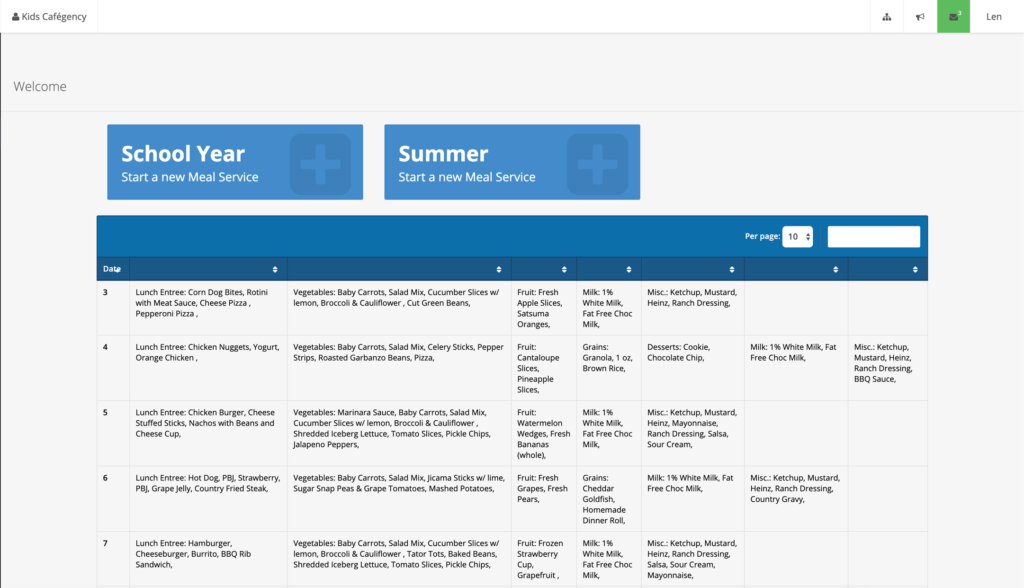 Training and support
Both companies offer to provide excellent customer support from professional development webinars to video tutorials, including:
In-depth initial training
Ongoing support of a dedicated representative
Unlimited phone and email support (provided by each provider- for example, if a sponsor has a question related to Link2Feed's point of service meal recording, they will contact Link2Feed support)
Self-guided learning materials and videos
Both companies also provide help to get you up and running!
Link2Feed offers bulk uploads of sites and rosters.
Health-e Pro's Data Entry service ensures that all your data–from ingredients to recipes to pricing–are input accurately. Their EZ Review feature provides the peace of mind you crave if you have an upcoming Administrative Review and their Pros Reviewers and Registered Dietitians will comb over all your recipes and ingredients, empowering you to have a successful review.
Why Health-e Pro
Health-e Pro has been serving organizations in the child nutrition space for nearly 10 years and their menu planning software has been USDA approved since 2013. Many of their staff have worked in the industry, so they understand intimately how to solve the needs of their users.
When Link2Feed staff met the Health-e Pro team in 2018, we were especially impressed with the user-friendliness of the software and the company's approach to training and support. We introduced them to some of our clients who were equally blown away.
The Health-e Pro team is as passionate about serving CACFP/SFSP providers as Link2Feed, so we know you'll love them too!
See it in action
To learn more about each system and how they work together, you can watch this video or book a demo today!