Why did you switch to Link2Feed's software for nonprofits?
The Feeding America Service Insights (SI) initiative required us to really think about how we were collecting client data, so we also used it as an opportunity to consider other software providers. We put together a working group to find out what was needed (by the food bank and our agencies) and Link2Feed was the only software that met all of our criteria.
When I started to talk to other food banks about Link2Feed's software for nonprofits, I quickly found the community surrounding them to be invaluable. Every food bank I talked to had great things to say about the software and the level of support provided, which made us feel confident in our choice to switch providers.
How did you convert your agencies?
The Link2Feed team trained us to be trainers and provided us with all the outlines and materials we needed to be well prepared to begin training our agencies.
Pre-pandemic we were utilizing small in-person training groups.  Post-pandemic, I quickly pivoted and broke training down into 3 virtual sessions to cover all aspects of the software and delivered it in a one-on-one format to really help our agencies build confidence to implement quickly. Agencies also get hands-on practice with our customized Link2Feed test site where I can walk them through our custom setup, which has been really helpful.
Once our new website is complete it will have a dedicated Link2Feed area and a library for all training resources! In the future, I'm planning on running a quarterly webinar as a refresher for agency staff and to teach new volunteers to use the software.
Leveraging the Link2Feed community
I facilitate the agency training, so I was thrilled to find there was so much support from, not only Link2Feed, but their entire user network. There is even a Feeding America group just for Link2Feed you can join.
I've been able to rely on the community for advice and also help other food banks by answering questions and sharing materials.
The response from agencies using Link2Feed's software for nonprofits is overwhelmingly positive. With Link2Feed, we intake clients more efficiently, have minimized duplicates and everyone is more involved because they know the software, which is a direct result of the support we receive.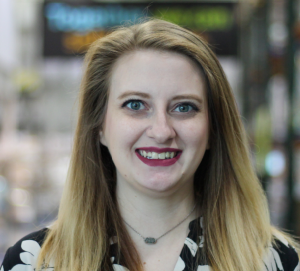 "The level of support I get from Link2Feed and their community is unmatched, especially in relation to our previous provider. I've really benefited from the strong community surrounding Link2Feed. I was able to lean on them and valued being able to chat with other food banks to pick their brains on how they did their rollout and get advice. It's nice being part of a big community! " – Kara Stewart (Service Insights Specialist)