"Link2Feed's food pantry software will allow the network to speak persuasively about the magnitude of the problem, and … take measure of how well Food Banks are solving this problem." – Matt Cooper, Program Coordinator, House of Friendship
All-in-one system with Link2Feed's food pantry software
House of Friendship (HOF) is a member agency of The Food Bank of Waterloo Region, who implemented  Link2Feed's food pantry software as part of the Ontario Association of Food Banks provincial rollout.
HOF saw this rollout as an opportunity to upgrade from their existing database, unify with other programs in their region and use data for advocacy efforts.
As their Program Coordinator, Matt, put it, "Link2Feed will simplify report generation and help us to better understand the needs and experiences of the people who turn to us for help. Instead of different systems at 70 plus programs, Link2Feed is one database for the entire region."
You can read the article he wrote before adopting Link2Feed's food pantry software here.
The House of Friendship began using Link2Feed as their primary pantry software in the spring of 2015.
Successful results after one year
After one year, Matt reports that all is running smoothly at House of Friendship.
They're now able to use Link2Feed's reporting tools to gain valuable insight about the people they serve. For example, they've learned that more than 50% of their clients only accessed their services once or twice per year and that nearly 25% are on disability assistance.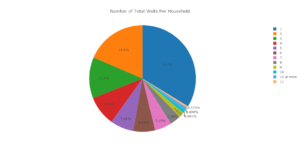 House of Friendship sees the impact Link2Feed has had not only on their agency, but also on their region as a whole:
"Link2Feed can help all of us working to share food to work together to identify who falls through the cracks of the existing network, begin to understand which parts of the network work with whom and how resources can move to the parts of the city that need more support. Most importantly it will allow the network to speak persuasively about the magnitude of the problem, and … take measure of how well Food Banks are solving this problem."
Read Matt's second post about his thoughts after a full year of using Link2Feed here.