Recruit, Retain & Evolve Your Volunteers​
Expand your operational capacity, build a loyal volunteer team and evolve supporters into donors. Our Volunteer Management Software, powered by InitLive, is compatible with Case Management Software and CACFP & SFSP Software.
Build
Inspired

Volunteer Programs
Link2Feed's Volunteer Management Software is a great fit for mission-driven organizations and nonprofits.​
Manage More Volunteers in Less Time​
Centralized

Volunteer Management
Flexible and intuitive, our Volunteer Management Software is easy for staff, candidates and volunteers to use.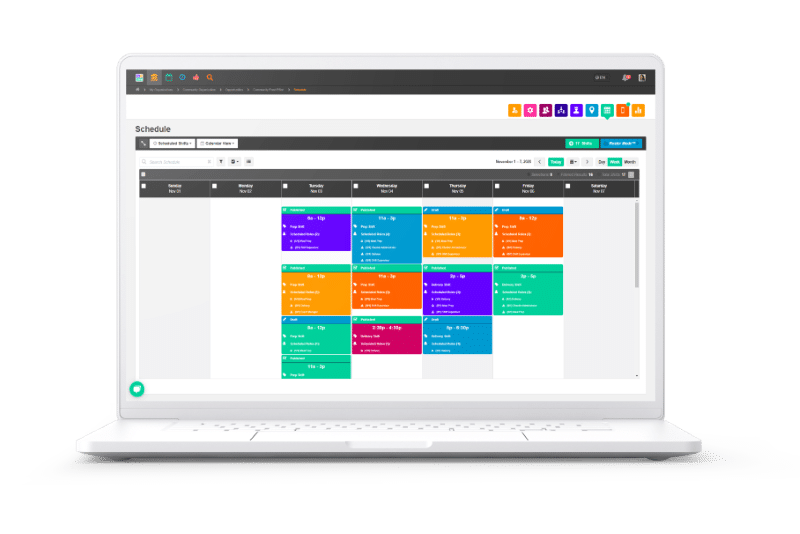 Streamline every part of your volunteers' experience from sign-up to check-out. Our Volunteer Management Software, powered by InitLive, provides volunteers with all of the tools they need to make a difference.
Online Recruitment & Screening
Simple online applications and branded sign-up pages make it easy for potential recruits to find and apply to volunteer opportunities. Quickly collect, accept, or reject applications from your centralized database.
Patented Mobile Experience
Make it easy for your staff to manage volunteers whenever and wherever necessary with the mobile app. Volunteers can use the app to access documents, sign up for shifts, view schedules and receive important communications.
Simplified Scheduling
Let volunteers sign up for the roles, shifts and tasks that interest them, or automatically match volunteers with opportunities based on their unique skills, qualifications and availability.
Unlock Useful Data
Generate in-depth reports and activity logs designed to share with your team and community. Analyze insights to secure funding and enhance your volunteers' experience.
Volunteer Management Software in Action
Check out the following case studies to see how our Volunteer Management Software can help you empower your volunteers and reduce administration.
Get Started With Link2Feed
Invest

in Your Volunteers
Contact Link2Feed to see how our Volunteer Management Software add-on can help you optimize your volunteers' experience and bring more people to your mission.​
Volunteer Management- Website Leads
"*" indicates required fields