WE ARE EXCITED TO ANNOUNCE THE ROLL OUT OF LINK2FEED VERSION 1.1!
WE ARE EXCITED TO ANNOUNCE THE ROLL OUT OF LINK2FEED VERSION 1.1!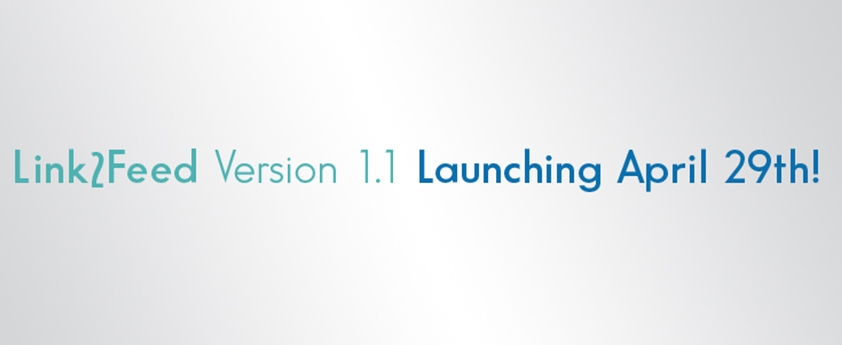 Thanks to the wonderful feedback from our clients, Link2Feed will be rolling out a systematic update on Monday, April 29th.
While this rollout will require minimal changes to the way you currently use Link2Feed, the additional reporting tools and enhancements to existing features will greatly benefit all. Below is a full listing and brief description of each of the Version 1.1 enhancements.
Please note that as of April 29th, the 'Help' section of the portal will feature updated support videos to help you better navigate these new food bank software features. A new training manual will also be forwarded to a key contact at your organization.
Please do not forget to communicate these changes with your staff and volunteers.
SEARCH FUNCTION
Searching for Client ID
The ability to search for a client's ID number through the "Other" search field has been added.
PROGRAMS
Recording Food Programs
A feature has been added that allows organizations with food programs to track this information in Link2Feed. This feature enables the recording of program date and total served for meal programs, breakfast programs and snack programs. Multiservice programs (such as soup kitchens) prompt recording for program date as well as total children and total adults served. Please contact Link2Feed support if you require the programs feature to be enabled.
REPORTING
Automated Reporting
Statistics reports can now be emailed to selected recipients based on the criteria specified when initializing the report. You can also open the statics report directly after filling in the required fields by clicking "Preview"
Multi-Food Bank Visit Report(applicable for food bank networks only)
We now offer the ability to create a report that details which clients are visiting multiple food banks within a food bank network and the number of such visits that have been recorded over a period of time.
Group Reporting
Group reports can be created for food bank networks that often need to report on a select group of food banks.
Notes Report
The new "Notes Report" will allow food bank managers to review the notes recorded by intake staff over a selected period of time. This allows food bank managers to better understand the flow of communication in their food bank and more effectively track the use of the notes feature. This report can be found under the "Reports" section of the system as "Notes Review". The report is created by selecting a date range and, if you administer a food bank network, the appropriate food bank(s).
Visit Detail & Check Reports
An update has been made to the system which increases the speed in which these reports are generated.
Dupicate Check Report
A change was made to the way this report generates within multi food bank networks to prevent restricted organizations from checking their duplicate records against those of other food banks.
CLIENT AND VISIT FIELDS
Last Review Date
This field has been made editable to allow intake staff to specify review date (rather than defaulting to 365 days from the current date).
 Survey Wizard
To account for any additional short-term data collection needs (such as surveys), an optional survey tool has been added to the visit recording process. This will allow intake stuff to ask additional survey questions to interested food bank clients. The survey will be opened and processed in another window so visit data is not compromised.
Postal Code Automation
To reduce intake time and avoid incomplete fields due to lack of client information, the postal code field will now be automatically populated when the client address is completed.
Relationship Fields
In the "Client Profile" section, an additional field has been added to indicate the relationship of the people listed as dependents to the main client.
Clear button for Partners and Dependants
A "Clear" button has been added beside the "Spouse/Partner" and "Dependants" fields to enable clearing of that individual's data if they no longer reside in that household.
Visits Field on Personal and Income pages
The field "Number of Allowed Visits" has been added to the "Personal" tab of the client profile. "Number of Allowed Visits" is linked to the same field on the "Income" page to make indicating the number of visits allowed easier for food banks that base this measure on income.
Visit Editing
Those with relevant security profiles can now edit previously recorded visits as needed. Previously, only the user that recorded a visit had the ability to edit that visit.
Additional Household Income
A space to add descriptions for additional household income has been added to the "Income" page.
Summary Box Enhancements
The summary box (found on the "Services" page) has been updated to include a more detailed breakout of the household population by indicating the number of adults, children and seniors who are in that home. The summary box can now also be customized, so each organization has the ability to select which fields are shown in the summary.
ADMIN
User and Organization Upload
A feature has been added to allow for the mass upload of users or organizations for food bank networks.
To receive a copy of the spreadsheet to populate for mass upload please contact support@link2feed.com.
We are very excited about the rollout of Link2Feed Version 1.1 and add these new food bank software features. We hope you enjoy the additional accountability and streamlined processes these enhancements will create for your organization.
To learn how to manage these new features after the April 29throllout, please review the new videos found in the 'Help' section of your portal. If there is any concern regarding the functionality of these improved features, please click 'Submit a Ticket' in the help section of your portal.
---
---